The Global Gold Standard for Research, Data Access, and Impact for a Quarter of a Century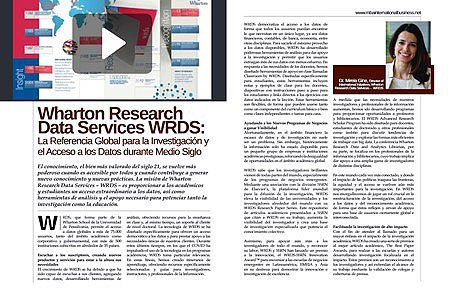 MBA International Business Magazine: https://en.calameo.com/mba-magazine/read/00625105022e7819da849?authid=eGRnt6eWve9G

Knowledge, the 21st century's most valuable commodity, is most powerful when it's broadly accessible and contributes to new knowledge and practice. The mission of Wharton Research Data Services—or WRDS—is to provide students and scholars with extraordinary access to data, tools, analysis and support to advance business research, education and impact. A division of the Wharton School of the University of Pennsylvania, WRDS brings the equalizing power of global data to over 75,000 commercial, academic, and government users at 500+ institutions in more than 35 countries.
Listening to subscribers, creating new products and services to meet their needs
WRDS has grown by listening to our expanding subscriber base through the addition of new data, development of analytics tools, classroom resources for teaching, and enhanced doctoral-level support. As COVID has accelerated the way technology is deployed in the delivery of our academic programs, WRDS technology infrastructure was designed around making data accessible to and supportive of the unique needs of our core users. During this period, WRDS enhanced our Learning Pathways — providing curated, guided resources for Researchers, Instructors, and Information Professionals
WRDS democratizes data access so that all users can easily search across multiple disciplines including Finance, Accounting, Banking, and Economics, all in one location. To make the most use of the available data, WRDS developed powerful analytics tools to support research and enable users to get more out of their queries with less effort. To respond to the needs of business educators, we created Classroom by WRDS. Designed specifically for students being introduced to finance and business concepts, this teaching and learning tool includes teaching notes and lessons for instructors, slide decks with step-by-step instructions for students, and direct links to the tasks outlined in the lessons. Flexibility is built-in so it can be used as a core component of a curriculum, or for stand-alone lessons or assignments.
Helping emerging business program gain visibility
There is no shortage of data or research across financial fields, but historically that information has only been available to small sets of prestigious firms and academic institutions, reinforcing unequal opportunities in global scholarship.
WRDS recognizes that brilliant researchers come from every corner of the world, especially at emerging business programs. Through a first-of-its-kind partnership with Elsevier's SSRN division, the world's leading research paper repository, WRDS is elevating the visibility of universities and researchers around the world with our WRDS Research Paper Series. This searchable repository of all papers submitted to SSRN that cite WRDS in their work increases researcher visibility and builds a specialized research base that advances shared knowledge.
In addition, to further support and recognize global researchers, WRDS and SSRN have launched the WRDS-SSRN Innovation Award™ to honor emerging business schools in the EMEIA, North America and Asia Pacific regions for their ability to demonstrate innovation and research excellence.
As the needs of our researchers and the staff who support them grow, we've developed Programs to provide opportunities for scholars and Librarians. The WRDS Advanced Research Scholar Program is designed for faculty, Ph.D. students and practitioners to discuss trends in research and explore efficient ways of handling big data. The Wharton Research Data and Analytics Librarian Conference is focused on information professionals and university academic librarians who support a wide range of researchers and disciplines.
As the world becomes more connected and the impact of policy reaches across borders, equity and access become more essential to research. WRDS is proud to play a leading role in reshaping how research, data access and researcher recognition can better reflect and support a truly global and networked user base.
Enabling impactful research
To meet the global call for greater emphasis on the impact produced by academic research, WRDS created a series of Best Paper Awards to highlight schools and authors conducting impact-focused work. These awards recognize researchers and extend the reach of their work through peer recognition and press coverage, and further develops a knowledge base of results-driven insights.
For example, WRDS Best Paper Award Winner Tax Evasion Across Industries: Soft Credit Evidence from Greece earned the attention of Greek policymakers, received extensive media coverage, and the Greek government has made policy changes based on this paper. Paper winner, All the President's Friends: Political Access and Firm Value, used public data from White House visitor logs during the Obama presidency to show that corporate executives' visits to the White House are associated with positive stock price reactions. Significant press attention included CNBC, Dow Jones Marketwatch, and an interview on SiriusXM.
Trends in research
ESG (environmental, social and governance) research by both academics and practitioners has grown exponentially in just the past few years. WRDS was at the forefront of this trend by making key data resources available and continues to advance the body of knowledge with a curated list of resources. WRDS has facilitated novel incites in this growing area by providing data access and tools to this specialized area.
WRDS is elevating the visibility of universities and researchers working across an array of fields. The WRDS Research Paper Series (RPS) on SSRN brings scholars' work to the world stage, driving the researcher recognition needed in today's competitive academic landscape.
This searchable repository of papers has evolved into a specialized research base that advances shared knowledge. The RPS success led both organizations to launch the WRDS-SSRN Innovation Award – honoring rising business schools in the North America, Asia-Pacific, and EMEIA regions. Past award winners include University of Gothenburg, University of Southampton, and 2020 recipient, Essex Business School.
Looking back by looking ahead
Reaching our 25th anniversary in 2021, inspires us to look ahead and find new ways to advance the work of our users, no matter their location. As the global gold standard in business intelligence, we recognize what sets us apart, and what we build on for the future: the wisdom to listen to clients around the world, understand emerging and established regions, push the boundaries, and innovate at every level to meet new needs and support greater research.
______________________________
ABOUT MBA International Business
MBA International Business is the first and only academic business publication for executives in Latin America. MBA International Business fulfills the mission of being the information and dissemination bridge between business schools and executives. MBA International Business provides all the detailed information about business schools, MBA programs and management training.
MBA International Business, seeks to guide candidates to MBA programs or specialized business masters, providing them through articles and interviews, the appropriate way to choose an MBA.
MBA International Business is the means of dissemination par excellence for business schools from different parts of the world that wish to promote and make their MBA programs known to Latin American professionals.
In each edition of MBA International Business, a Guide classified by country is included, of business schools, who present their academic offer, detailing the email of the contact person and their website.
The articles and interviews that are presented in MBA International Business are published in English and Spanish, taking into account the cultural diversity of the candidates, academics and business schools that receive our publication.
MBA International Business is the only academic business publication in the world sponsored by CLADEA Latin American Council of Management Schools, AACSB International, EFMD European Foundation for Management Development, and AMBA Association of MBA.