Analyze unstructured content from thousands of publications to extract information on named entities with sentiment, and financially-relevant events.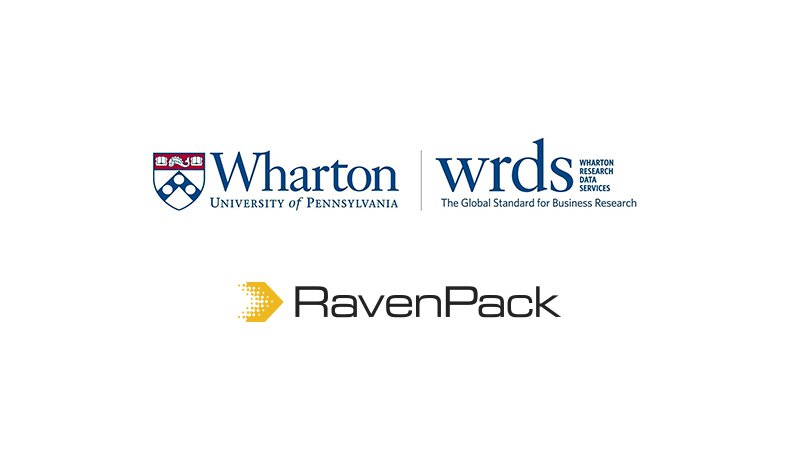 Philadelphia, PA — Businesswire — Wharton Research Data Services (WRDS), the leading data research platform and business intelligence tool for global corporate, academic, and government institutions, is pleased to announce the addition of RavenPack expanded Analytics data to its offerings. A part of the Wharton School of the University of Pennsylvania, WRDS provides global corporations, universities, and regulatory agencies the thought leadership, data access and insights needed to enable impactful research.
Alternative data has opened innovative pathways to analyze financial, economic and societal behaviors. Within that growing family of datasets, news analytics from RavenPack empower researchers to apply quantitative models to time series by presenting structured insights drawn from large numbers of curated news sources and business data. Augmented with sentiments and attention scores, these point-in-time datasets make it possible to identify previously unattainable signals.
Through continuous technological investment and supported by its own team of data scientists, RavenPack has significantly expanded its event detection and sentiment scoring capabilities, and this latest dataset is now available to researchers on WRDS.
Data highlights
Uncover correlations, patterns, relevance and influences in time series using quantitative models across an unprecedented breadth of topics from 25,000+ global sources.
Explore point-in-time records augmented with sentiment and media attention scores from
20+ years of historical data.
Search 300,000+ entities and 160,000+ macro entities referenced across all sectors.
"We are excited to expand RavenPack's Analytics offerings," said Robert Zarazowski, Managing Director of WRDS. "With extensive research being conducted in the area of textual analysis, RavenPack brings its latest innovations and extensive data to our global research community."
Peter Hafez, Chief Data Scientist at RavenPack commented: "Academic researchers around the world are increasingly relying on our datasets to produce and publish outstanding research papers underpinned by our reliable news and sentiment analytics. The highly anticipated availability of RPA 1.0 on the Wharton Research portal will stimulate innovative research by unlocking insightful signals from financial market research to social sciences".
Research Using RavenPack
When Sentiment Is News: The Polarity Pattern Approach, N. Babolmorad, N. Massoud (University of Melbourne)
The Informational Role of the Media in Private Lending, R. Bushman (University of North Carolina), C. Williams (University of Michigan), R. Moerman (University of Southern California)
Spreading the Word: Capital Market Consequences of Business Press Coverage of Management Earnings Guidance, B. Twedt (Texas A&M University)

Along with best paper awards, research support, and the latest data available, WRDS is a leader in enabling impactful research. Through a first-of-its-kind collaboration with SSRN, WRDS is elevating the visibility of universities and researchers working across an array of fields. The WRDS Research Paper Series is a searchable repository of all papers submitted to SSRN that cite WRDS in their work, which will increase researcher visibility and build a specialized research base that will advance shared knowledge. In addition, the organizations have launched the WRDS-SSRN Innovation Award to honor emerging business schools in North America, Asia-Pacific, and EMEA. Learn more about how WRDS is driving impact.
About RavenPack
RavenPack develops and distributes structured data products from unstructured content. The firm is the leader in news analytics which involves turning news into numbers so they can be easily processed and consumed by quantitative models and trading programs. RavenPack classifies news items using multiple sophisticated sentiment detection algorithms. In addition, RavenPack generates a number of non-sentiment analytics including information about companies, events, relevance, and market impact. Outputs are often in the form of numerical news scores that can be used as inputs in the calculation of company, sector, and industry indicators. News Analytics are used to power a number of applications ranging from high frequency trading applications requiring low latency inputs, to risk and asset management applications requiring factors whose time resolution may be daily, weekly, and monthly. There is strong empirical evidence that RavenPack News Analytics have explanatory and predictive power in three dimensions: market direction, volume, and volatility. Beyond some of the world's top industry clients, RavenPack is working with a number of partners and academic researchers who are using news analytics in their applications and research endeavors.
About WRDS
Wharton Research Data Services (WRDS) is the leading business intelligence, data analytics, and research platform for global institutions ̶ enabling comprehensive thought leadership, historical analysis, and insight into the latest innovations in academic research.
WRDS democratizes data access so that all disciplines, Accounting, Banking, Economics, ESG, Finance, Healthcare, Insurance, Marketing, and Statistics, can easily search for concepts across the data repository. Partnering with global vendors, WRDS hosts 350+TB of data — the broadest collection of data on the most robust computing infrastructure to give users the power to analyze complex information at speeds of up to 400MB per second.
Flexible data delivery options include a powerful web query method that reduces research time; the WRDS Cloud for executing research and strategy development; and the WRDS client server using SAS, Python, R, Stata, Matlab, and more. Our rigorous data review and validation give users the confidence to tailor research and create a wide range of reliable data models.
WRDS' unique array of Services include access to a suite of Analytics tools developed by our doctoral-level research team, tutorials, research support, and Learning Pathways by WRDS — online learning and instructor pathways — providing curated, guided, online resources for Researchers, Instructors, and Information Professionals. Through Data, Analytics, Research and Technology, approach your research using real world examples and advance your analysis to answer the most critical questions with your data.
WRDS is a leader in impactful research. Through a partnership with SSRN, WRDS is elevating the visibility of universities and researchers working across an array of fields. The WRDS Research Paper Series is a searchable repository of all papers submitted to SSRN that cite WRDS in their work. In addition, the two organizations have launched the WRDS-SSRN Innovation Award™ to honor emerging business schools in North America, Asia Pacific, and EMEA.
WRDS is more than just a data platform. Supporting over 75,000 commercial, academic, and government users at 500+ institutions in 35+ countries, WRDS is the global gold standard in data management, innovative tools, analytics, and research services — all backed by the credibility and leadership of the Wharton School.
About the Wharton School
Founded in 1881 as the world's first collegiate business school, the Wharton School of the University of Pennsylvania is shaping the future of business by incubating ideas, driving insights, and creating leaders who change the world. With a faculty of more than 235 renowned professors, Wharton has 5,000 undergraduate, MBA, executive MBA and doctoral students. Each year 13,000 professionals from around the world advance their careers through Wharton Executive Education's individual, company-customized, and online programs. More than 99,000 Wharton alumni form a powerful global network of leaders who transform business every day. For more information, visit www.wharton.upenn.edu.
# # #
Media Contacts
Robin Nussbaum Gold, Director of Marketing
Wharton Research Data Services
Rnuss@wharton.upenn.edu
Max Colas, Director of Marketing
RavenPack
mcolas@ravenpack.com